About Terry Kane
Terry Kane is a graduate of the University of Toronto and is one of Canada's most experienced Orthopaedic and Sports physiotherapists with over 35 years of clinical experience. 
At U of T, Terry was introduced to orthopaedics and sports medicine by surgeons Dr. David McIntosh and Dr. John Cameron while volunteering at the Toronto General Hospital, U of T Sports Medicine Clinic, and the Varsity Blues Hockey Team.
After graduating from the U of T, Terry moved to Calgary in 1985 to become the Team Physiotherapist for Canada's Men's National Hockey Team in preparation for the 1988 Winter Olympics in Calgary.
Between 1985 and 1988, Terry travelled internationally with the National Team to Moscow, Leningrad  Kyiv, Switzerland  Japan, Sweden, Finland, Germany, Norway, across Canada, the United States and ultimately the opening and closing ceremonies at the Winter Olympics in Calgary.
After the Olympics, Terry joined the University of Calgary Sport Medicine Centre where he worked with some of Canada's most respected orthopaedic surgeons, sports medicine physicians, and some of Canada's top athletes.
In 1995, Terry returned to hockey with the Calgary Flames Hockey Team (NHL) as a Team Physiotherapist where he travelled with the team and was responsible for the management and rehabilitation of all injuries.
In 2001, Terry was hired by the National Hockey League (NHL) as a Consultant to the NHL Injury Analysis Panel. In this position, Terry was responsible for auditing and analyzing monthly injury data from all teams and preparing reports for league officials and the injury panel. This objective data was instrumental in helping the league to make data-informed decisions to improve player safety.
In addition to his clinical activities, Terry has served as an Editorial Peer Reviewer for the Clinical Journal of Sports Medicine (current) and the Physician and Sportsmedicine (past) as well as written and spoken on injury prevention and rehabilitation in Europe, Asia, Australia and North America.
In 2004, Terry left the world of professional sports to spend more time with his young family as well as to work at clinics such as Calgary Chronic Pain Centre, Calgary West Central Primary Care Network and Alberta Health Services.
In addition to OrthopaedicsCanada.com, Terry owns and operates;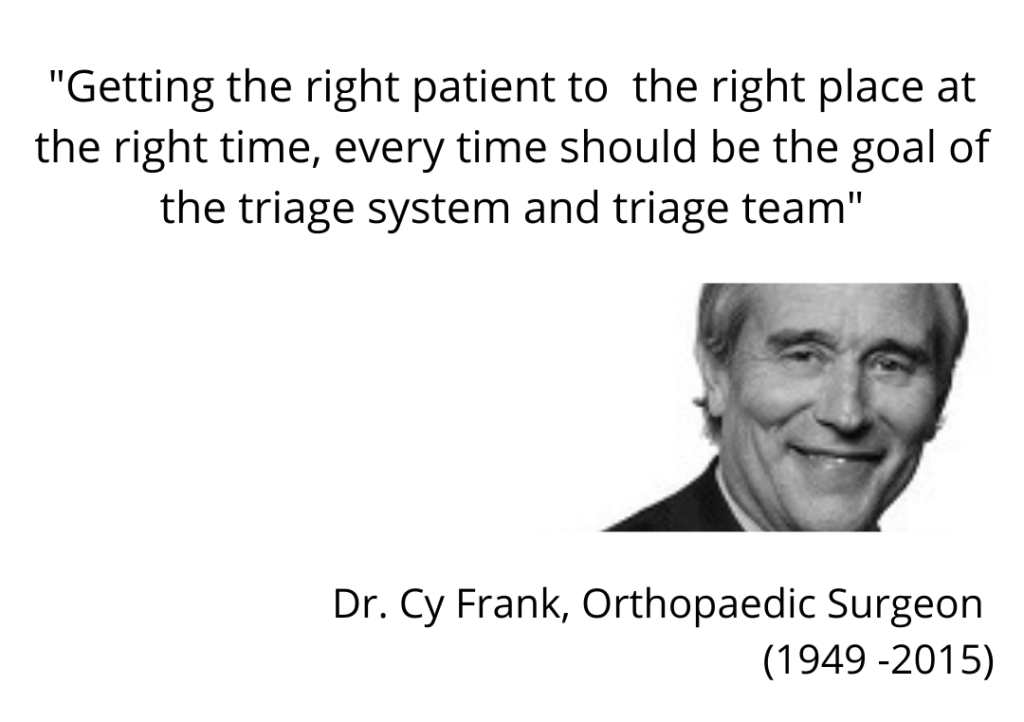 Appointment Information
Due to other clinical commitments, Terry only sees private patients on Fridays and Saturdays.
Location: The Academy – Heavens Fitness Club at 637 – 11th Ave SW, Calgary, T2R 0E1 (Beltline) The building has a free parking lot.
To thoroughly exam, diagnose and educate patients on their condition, treatment and exercise plan, Terry only sees one patient per hour.
All appointments are booked online – see below.
Please note that Terry does not see;
patients with injuries resulting from a work-related accident or motor vehicle accident.

patients on short or long-term disability insurance coverage.

patients who have retained legal counsel for an injury or condition 

patients seeking a professional opinion for any current or future legal action.
Book Online Below